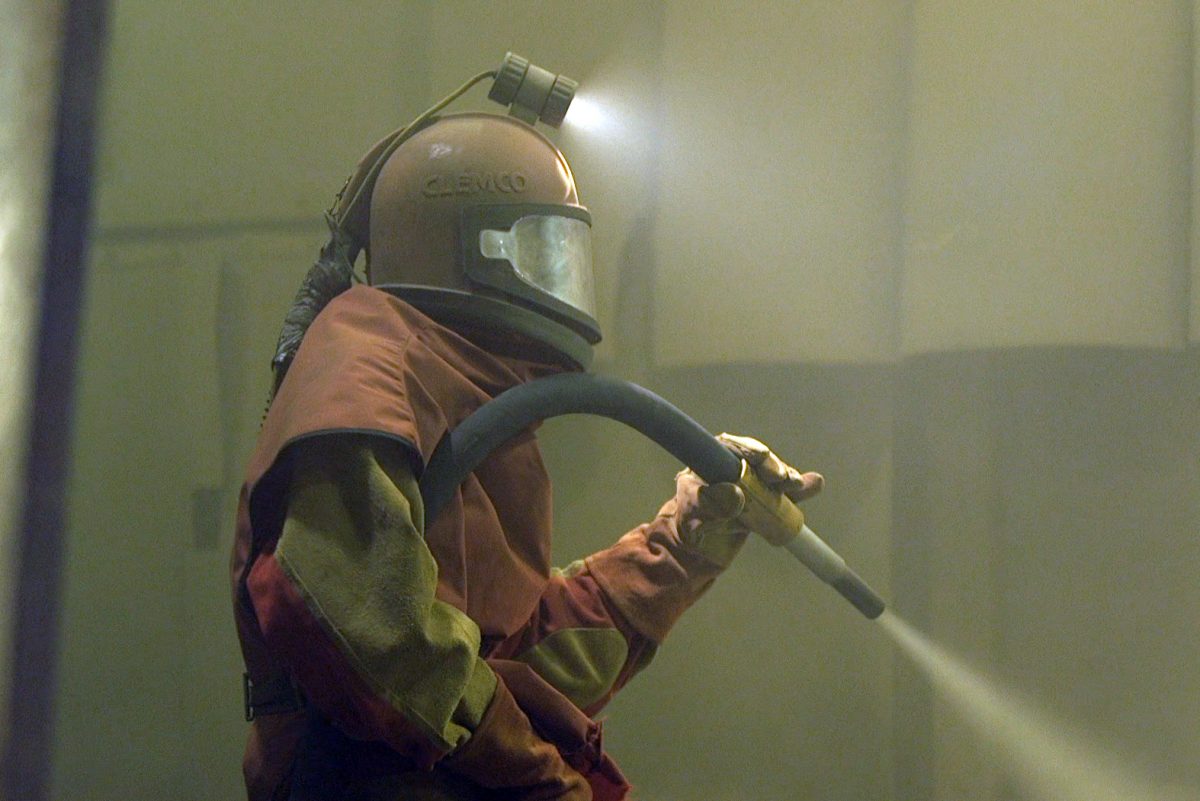 With a 350m² facility in Lerwick, we are able to handle some of the largest jobs when it comes to blasting and coatings. We have the only workshop that is available to offer Thermal Metal Spray in both zinc and aluminium application using Gas and Arc processes. Through our highly talented and experienced blast shop team, we are set to deliver all blasting needs to you and your project.
At LEF we can supply metal coatings in Zinc and Aluminium applied through both flame and arc processes. This coupled with a zinc rich primer and polyurethane top coat will endure through the toughest of corrosive coastal, marine or high salinity areas (or just a typical day on Shetland). We can provide this system to both ISO and NORSOK standard when required.This high quality coating system which will extended the length of service dramatically. Noted in European standard ISO 14713 as giving 20 years to first maintenance in aggressive environments.
Our blast shop has gained a fantastic reputation for its high integrity surface preparation and coating for both on-site work at clients premises and within our extensive coating facility.
Our facilities support a wide variety of industries including Energy from Waste, Oil & Gas, Subsea, Renewables, Marine and Steel making.
Coating Inspection
All of our projects with our clients come with in-house testing. We have an ICORR Level 2 Coatings Inspector available and we are always available to discuss any inspection which you may require.
Abrasive Blasting
For abrasive blasting, we use a recyclable metal blast grit which ensures our systems are cost-effective & eco-friendly whilst maintaining a quality result. We are also versatile and can change out mediums from steel to sand or glass and many others at the change of a hose. We are also capable of mobilising quickly to carry out offsite blasting at very short notice.
Thermal Metal Spray
In terms of Thermal Metal Spray, we are Shetland's only engineering company to offer this in Zinc & Aluminium application using Gas & Arc processes which are a highly durable alternative to galvanizing. This is a fantastic solution which can be applied to anything from subsea installations to application for domestic requirements. This process is widely used in the Oil & Gas industry and is suitable for other sectors.
PROJECT MANAGEMENT
At LEF we can provide full turnkey solutions to any engineering problem, we deploy the use of our vast industry experience to achieve this.
Design Interface
Supply of Material
Supply of Equipment
As built Fabrication Drawings
Bespoke Fabrication of structures
Coded Welding
Hydro Testing and Pressure Testing
Non Destructive Testing
Management of Sub Contractors
Loadout, logistics
Thermal metal spray, Sandblasting
Site services which include but are not limited to:
Site welding
Installations
Engineering
Machinery installations
Pump installations
Confined space working
Mechanical fitting
Repairs
Electrical work