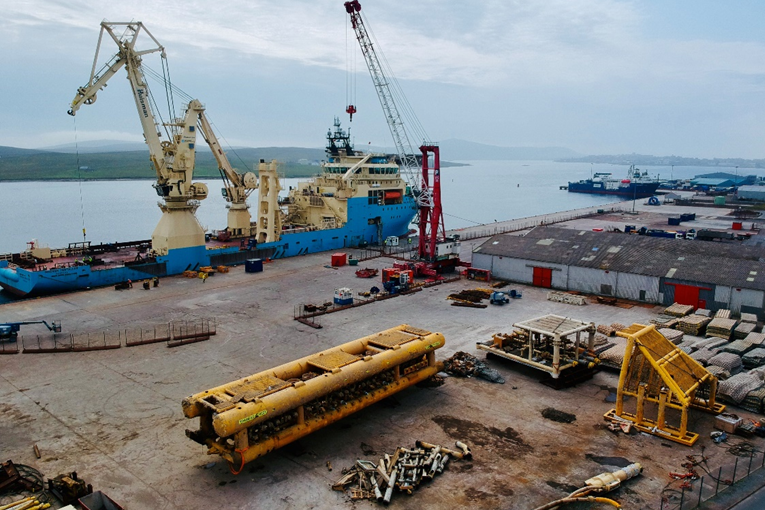 When it comes to decommissioning in Shetland, our prime quayside location at the heart of the industry is second to none.
Accompany that with our highly-qualified & dedicated team of engineers we can cover all bases when it comes to decommissioning projects in the North Sea. Our engineering and services cover all phases of a decommissioning project. We know from experience what challenges we may arise. We can lead the process from project initiation all the way through physical removals, right here at our quayside and lay-down area.
LEF can provide the working at height personnel and MEWP trained burner/gougers to carefully remove structural fixings and can perform cutting where required.
No challenge is too big for LEF. If it can be done, we can do it.
Quayside and Shetland
LEF are positioned perfectly to assist with any decomissining project. Being only 50m from the quayside we are able to provide the space and manpower required handle any project. we have a 12,400 m2 Assembly and Laydown Area allowing us to mobailise at a moments notice.
Rigging
Here at LEF we are able to project manage decommission of rigging, by deploying our vast experience to ensure the correct engineering analysis is conducted and viable solutions are applied. Our project managers are able to ensure cost effective operational planning is carried out. Always ensuring safety and efficiency remain at the forefront of all decisions executed.
Decommissioning Barge
At LEF we not only have the relevant skills and knowledge to apply fabrication solutions to the modification of any decommissioning barge, but we have the experience of doing so. We are able to redesign and refit any barge design to ensure maximum efficiency for decommissioning activities. Always providing the right engineering solution for any problem.
PROJECT MANAGEMENT
At LEF we can provide full turnkey solutions to any engineering problem, we deploy the use of our vast industry experience to achieve this.
Design Interface
Supply of Material
Supply of Equipment
As built Fabrication Drawings
Bespoke Fabrication of structures
Coded Welding
Hydro Testing and Pressure Testing
Non Destructive Testing
Management of Sub Contractors
Loadout, logistics
Thermal metal spray, Sandblasting
Site services which include but are not limited to:
Site welding
Installations
Engineering
Machinery installations
Pump installations
Confined space working
Mechanical fitting
Repairs
Electrical work