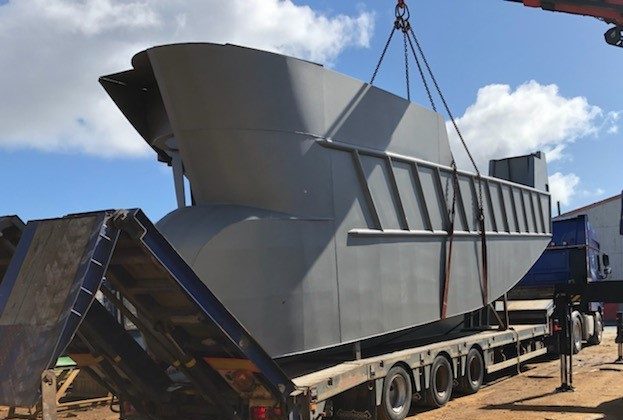 We are placed like no other in Shetland to deliver new boat builds for our clients, no matter how large or small. This includes support for the salmon & fishing industries that continue to play a huge part in Shetland.
From the design & manufacturing through to electrics and the launch, from our prime quayside location, our dedicated team can manage each step tailored to your needs. With a direct route to the North Sea from our base, there doesn't need to be any need for transportation either – but if that is the case, we can aid that!
All sheet metal fabrication is done on site in our workshop where we have a 530m² welding hall which sees any job big or small done in a quality controlled environment.
Boat Refurbishment
LEF have experience in boat refurbishment, we can take your project from planning right through to completion. Our talented team can arrange collection and delivery to our premises. Before proceeding with the stripping, blasting and re-coating of a range of boats. We are perfectly suited to this service due to our fabrication ability alongside our blast and paint facility. Where we can apply a range of coatings to suit a variety of project requirements. Our team of welders, fabricators and platers can carryout a range of upgrades and maintenance to existing applications onboard, and apply new solutions where required.
Boat Design
We have the capability to plan, design and construct a variety of sizes of boats, from a range of materials. What sets us apart from our competitors is our ability to complete the full process in-house. Due to the fact we have the largest weld hall on the island, we are able to complete projects in a controlled environment. We also have the capability of ensuring any boat is coated and painted to the highest standards, all in house.
PROJECT MANAGEMENT
At LEF we can provide full turnkey solutions to any engineering problem, we deploy the use of our vast industry experience to achieve this.
Design Interface
Supply of Material
Supply of Equipment
As built Fabrication Drawings
Bespoke Fabrication of structures
Coded Welding
Hydro Testing and Pressure Testing
Non Destructive Testing
Management of Sub Contractors
Loadout, logistics
Thermal metal spray, Sandblasting
Site services which include but are not limited to:
Site welding
Installations
Engineering
Machinery installations
Pump installations
Confined space working
Mechanical fitting
Repairs
Electrical work